Welcome to
Hines Flask
Manufacturers of
FOUNDRY FLASKS AND JACKETS
A Division Of Buckeye Aluminum Foundry


5906 West Center Road
Linesville, PA 16424
(814)683-4420
(814)683-4405 fax

J.F. Hines Founder and President
In 1919 Mr. J. F. Hines conceived the idea of making flasks standard in size and accurate within a few thousandths of an inch. Exact duplication of a flask at any future time would thus be possible with the and assurance that the new flask could be interchanged with the old one.
Using this idea as a beginning the Hines Flask Company first introduced the Model "A" Slip Flask with pouring jackets made of either cast iron or aluminum. Jackets were produced with the same care and to the same close tolerances as Hines flasks so that each jacket would, of necessity, fit the mold perfectly.
We progressively developed the Medium Weight, Heavy Duty, Dreadnaught and finally the "Pop-Off" Flasks. They are the results of years of constant research and experience in solving the problems of all a flask types of foundries - they represent the finest flasks with the and jackets available. Every flask is custom-built to hanged specifications and is not a makeshift taken from stock. All jackets are machined true and assembled accurately to the exact size of the flask, leaving nothing to chance.
For your convenience and to assist you in making and to the proper choice of flask equipment, we have compiled this online catalog. It describes our entire line of flasks, jackets and equipment. If you have special jobs or problems, our engineering staff is always ready and willing to help solve them. Their experience may be of great benefit to you and there is no obligation.

HINES' reputation for highly efficient, dependable flasks, jackets and related foundry equipment is not confined to foundrymen in this country alone.
For many years now, these fine products have been well known and extensively used in thirty-five counties throughout the world - in nearby Canada and Mexico and as far away as Australia and Pakistan. Such universal acceptance means HINES' products must be good…to go so far!
HERE'S WHY
o Made of the very finest materials only
o Engineered for rugged use and long life
o Engineered for easy handling
o Jig and fixture machined for extreme accuracy
o Pins and bushings hardened, ground, hard chromed
o Guaranteed performance and service
REPAIR SERVICE
Hines maintains a complete repair service for repairing flasks and jackets. Contact factory for details.
TRAINING SCHOOL
Hines has a repair school for training your maintenance personnel. Please contact factory for details.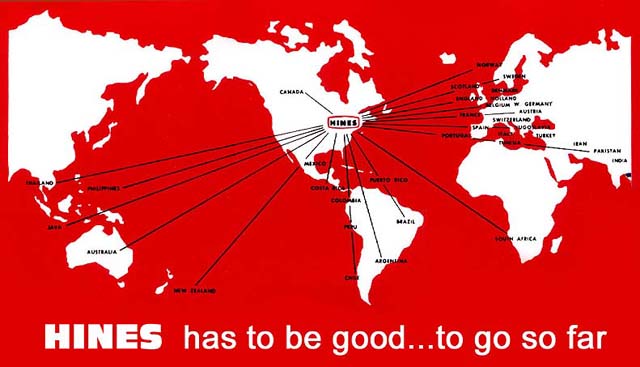 Site Design and Hosting by Firehouse Computer Concepts Inc.